(Preface: This post has been in the making for close to a year, but I'm finally posting it now :)

There seems to be a lot of negativity on the internet lately about bloggers who are "too positive". It seems that those who want to portray a happy, seemingly perfect life are looked down upon for not showing the bad times on their blog as well. I am not trying to give you all the idea that we have the perfect life, and I seriously hope that no one would assume we are angelic beings! I am human, and so is my family. (I know, I know, this comes as a shock to many)
I have bad days and I have really bad days. I argue with my husband, yell at my kids, have piles of laundry on the floor of my room and dirty dishes in my sink. I'm not trying to portray a "fake" life, only write about our happy times. If something happens to one of my kids or my husband (God forbid), the last thing I want to do is come back here and read all of my complaining about the bad days. In that case, I'll want to remember the good times and forget the bad.
That being said, even if nothing happens to a member of my family, I still want to remember the good times. No, everything I write isn't always 100% happy, but it won't be used to complain about my current daily annoyances. I am blessed beyond measure and I just cannot bring myself to gripe about such small things when I have it so good!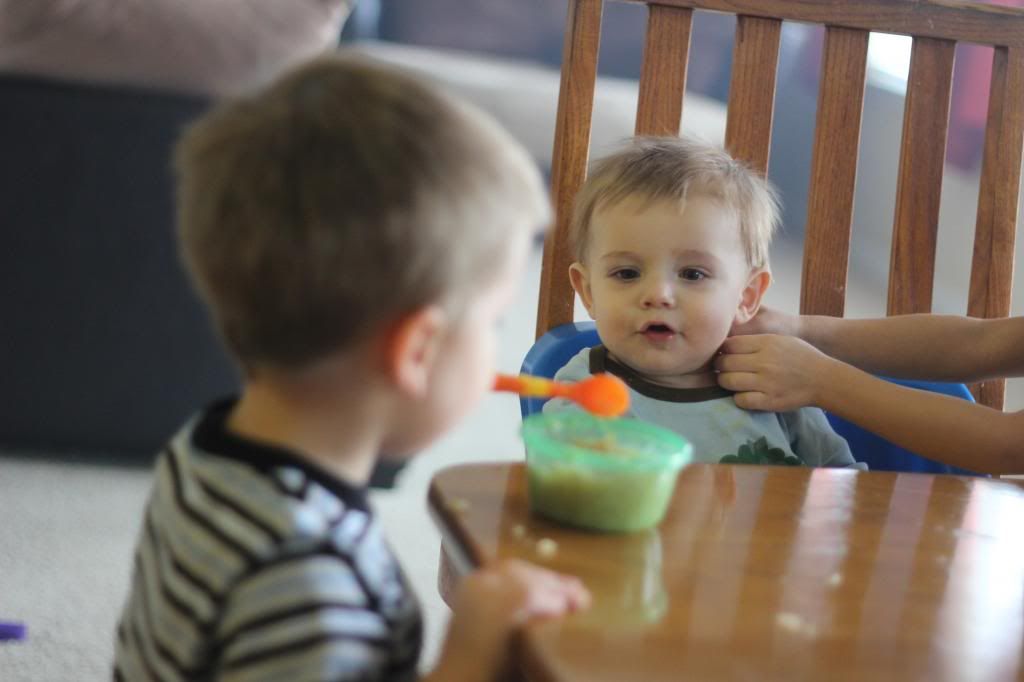 One is feeding him, the other is tickling his neck. What a life.
I want to publicly state the purpose of this blog, so that all who read it will understand where I'm coming from.
1) To keep my family updated with pictures and stories from our lives.
(This is the reason that I started this blog, and it will always remain my #1 reason to update since we live so far apart.)
2) To have an online document of our lives to look back on someday.
I hope that someday my children will take the time to look back and read about their lives, and even now, I look back on posts from a few years ago to see what was going on and what the kids were doing at the time.
3) To encourage anyone else who may happen to stop by and read.
I love my readers, and while you may get a little bored with the amount of pictures and details of my children's lives that are posted, I hope that you find encouragement at some point. I've made so many great friends through blogging. You guys are awesome!
For being 3, he's pretty good at feeding his little brother.
This blog will never be a place to judge other Christian people on what or how they write or portray their lives. This world has enough negativity in it and I refuse to write posts that will drag people down and leave them feeling discouraged (unless, of course, it is about a real life tragedy asking for prayer). If you think I'm trying to give you the idea that I eat rainbows and poop butterflies, you are highly mistaken. For my own sake, this blog is my happy place to remember the amazing life God has given me and the wonderful memories made along the way.